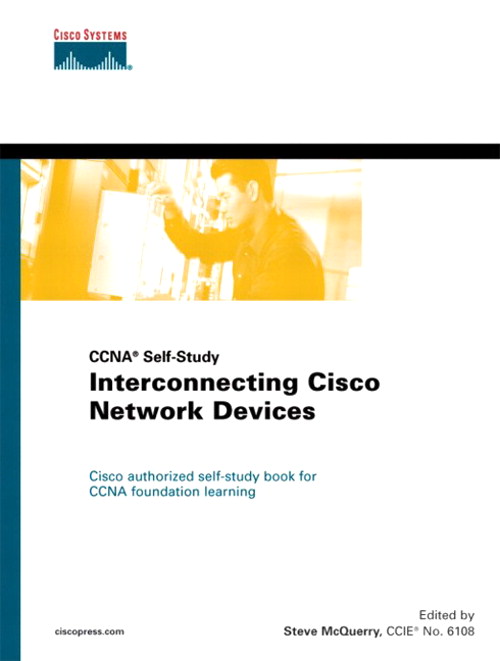 Share
|



Register your product to gain access to bonus material or receive a coupon.
Interconnecting Cisco Network Devices
Book
Sorry, this book is no longer in print.
Features
Official Cisco Systems Course Material—Based upon Cisco Systems instructor-led training course taught worldwide. There is no other publisher who has the access to this content—a Cisco Press exclusive.

Students learn the only approved materials from the exam creators. Ex.___
CCNA Exam #640-507 Preparation—The material covered within this coursebook includes the knowledge students will be required to know during the CCNA #640-507 Exam.

Teaches students networking skills and prepares them for certification testing. Ex.___
Strong classroom coursebook for growing Cisco Certification market—The ICND coursebook has been adopted and successfully used in institutions who have developed curriculum toward Cisco CCNA certification.

Complete and aligned materials help instructors prepare students for exams. Ex.___
Effective Pedagogy and Format for Classroom Learning—Strong pedagogy throughout the book aids in classroom and student learning. Each chapter concludes with questions to help the student assess understanding of key concepts. Call-out and keys carried throughout the texts adds to retention and knowledge acquisition.

Essential pedagogical elements help students learn materials more completely. Ex.___
Written by a Certified Instructor—Using the Cisco Systems developed content as a foundation, Cisco Press marries the content to a certified Cisco instructor who adds the guided learning and constant voice for an effective classroom learning aid.

Teaching professional involvement in material creation means easier transition to classroom use for Professor. Ex.___
Copyright 2000
Dimensions: 7.375 X 9.125
Pages: 600
Edition: 1st
Book
ISBN-10: 1-57870-111-2
ISBN-13: 978-1-57870-111-7
Cisco authorized self-study book for CCNA foundation learning
Prepare for CCNA exam #640-607 certification while learning the fundamentals of setting up, configuring, maintaining, and troubleshooting Cisco networks
Determine in which situations a hub, Ethernet switch, or router would be more appropriately used
Use Cisco software to identify addresses, protocols, and connectivity status in a network containing multiple interconnected Cisco devices
Interconnect Cisco switches and routers according to a given network design specification
Configure Cisco switches and routers to support a specified list of protocols and technologies
Configure access lists to control access to network devices or segments and general network traffic
Verify that Cisco switches and routers, as well as their configured network services and protocols, operate as intended within a given network specification
Interconnecting Cisco Network Devices is a Cisco authorized self-paced learning tool for CCNA foundation learning. This book provides you with the knowledge needed to identify and recommend the best Cisco solutions for small- to medium-sized businesses. This book teaches you how to perform all the basic configuration procedures to build a multirouter, multigroup internetwork that uses LAN and WAN interfaces for the most commonly used routing and routed protocols.
This book provides the installation, configuration, and troubleshooting information required to install and configure Cisco products. You will learn the fundamentals of interconnecting Cisco network devices in five modules: getting started with Cisco networks (assembling, cabling, operating, configuring, and managing devices), interconnecting Catalyst(r) switches (fundamental switch operations and VLAN configuration), interconnecting Cisco routers (TCP/IP, IP routing, traffic management, and IPX configuration), extending the network to WANs (serial point-to-point connections, ISDN BRI, and Frame Relay PVC connections), and supplemental appendixes (AppleTalk(r), HyperTerminal, Cisco 700 series routers, and password recovery techniques). Each chapter concludes with questions to help assess your understanding of key concepts and start you down the path for attaining your CCNA certification.
Interconnecting Cisco Network Devices is part of a recommended learning path from Cisco Systems that can include simulation and hands-on training from authorized Cisco Learning Partners and self-study products from Cisco Press. In order to find out more about instructor-led training, e-learning, and hands-on instruction offered by authorized Cisco Learning Partners worldwide, please visit www.cisco.com/go/authorizedtraining.
Related Article
Table of Contents
I. GETTING STARTED WITH CISCO NETWORKS.
1. Internetworking Concepts Overview.
2. Assembling and Cabling Cisco Devices.
3. Operating and Configuring a Cisco IOS Device.
4. Managing Your Network Environment.
II. INTERCONNECTING CATALYST SWITCHES.
5. Catalyst 1900 Switch Operations.
6. Extending Switched Networks with Virtual LANs.
III. INTERCONNECTING CISCO ROUTERS.
7. Interconnecting Networks with TCP/IP.
8. Determining IP Routes.
9. Basic IP Traffic Management with Access Lists.
10. Configuring Novell IPX.
IV. EXTENDING THE NETWORK TO WANS.
11. Establishing Serial Point-to-Point Connections.
12. Completing an ISDN BRI Call.
13. Establishing a Frame Relay PVC Connection.
V. APPENDIXES.
Appendix A: Configuring AppleTalk.
Appendix B: Establishing a HyperTerminal Session.
Appendix C: Cisco Series Routers.
Appendix D: Password Recovery.
Appendix E: Answers to Review Questions.
Index
Download - 515 KB -- Index
Other Things You Might Like



By Amir Ranjbar
Book $39.96