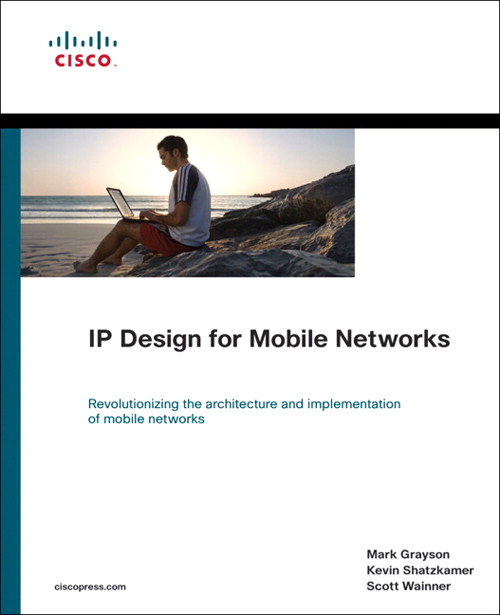 Register your product to gain access to bonus material or receive a coupon.
IP Design for Mobile Networks
eBook (Watermarked)
Your Price: $38.39
List Price: $47.99

This PDF will be accessible from your Account page after purchase and requires the free Adobe® Reader® software to read it.

The eBook requires no passwords or activation to read. We customize your eBook by discreetly watermarking it with your name, making it uniquely yours.
Copyright 2009
Edition: 1st
eBook (Watermarked)
ISBN-10: 1-58705-936-3
ISBN-13: 978-1-58705-936-0
As the cellular world and the Internet converge, mobile networks are transitioning from circuit to packet and the Internet Protocol (IP) is now recognized as the fundamental building block for all next-generation communication networks. The all-IP vision provides the flexibility to deliver cost-effective services and applications that meet the evolving needs of mobile users. RF engineers, mobile network designers, and system architects will be expected to have an understanding of IP fundamentals and how their role in delivering the end-to-end system is crucial for delivering the all-IP vision that makes the Internet accessible anytime, anywhere.
IP Design for Mobile Networks discusses proper IP design theory to effectively plan and implement your next-generation mobile network so that IP integrates all aspects of the network. The book outlines, from both a standards and a design theory perspective, both the current and target state of mobile networks, and the technology enablers that will assist the migration. This IP transition begins with function-specific migrations of specific network domains and ends with an end-to-end IP network for radio, transport, and service delivery. The book introduces many concepts to give you exposure to the key technology trends and decision points affecting today's mobile operators.
The book is divided into three parts:
Part I provides an overview of how IP is being integrated into mobile systems, including radio systems and cellular networks.
Part II provides an overview of IP, the technologies used for transport and connectivity of today's cellular networks, and how the mobile core is evolving to encompass IP technologies.
Part III provides an overview of the end-to-end services network based on IP, including context awareness and services.
Presents an overview of what mobile networks look like today–including protocols used, transport technologies, and how IP is being used for specific functions in mobile networks
Provides an all-inclusive reference manual for IP design theory as related to the broader application of IP for mobile networks
Imparts a view of upcoming trends in mobility standards to better prepare a network evolution plan for IP-based mobile networks
This book is part of the Networking Technology Series from Cisco Press®, which offers networking professionals valuable information for constructing efficient networks, understanding new technologies, and building successful careers.
ciscopress.com
Table of Contents
Introduction xvi
Part I Cellular Networks and Standards
Chapter 1 Introduction to Radio Systems 1
Spectrum 2
Propagation 5
Outdoor Coverage 6
Frequency-Dependent Propagation Loss 7
Fast Fading 8
Shadowing and Building Penetration Loss 11
Modulation 12
Multiple Access Technologies 18
Time Division Multiple Access 19
Frequency Division Multiple Access 21
Code Division Multiple Access 23
Space Division Multiple Access 27
Combating Radio Impairments 28
Forward Error-Correcting Codes 28
Mitigating Multipath Effects 29
Complexity of Multipath Mitigation 31
Smart Scheduling 31
Automatic Repeat Request 34
Diversity Combining 35
Spatial Multiplexing 35
Summary 37
Endnotes 38
Chapter 2 Cellular Access Systems 41
The GSM Access System 42
Protocol Architecture of GSM Access System 43
GPRS Access Architecture 48
Enhanced Data Rates 53
The UMTS Terrestrial Access Network 55
UTRAN Protocol Architecture of UTRAN 55
UTRAN Transport Network 62
UTRAN Packet-Switched Services 64
Multicast and Broadcast Support 66
High-Speed Packet Access 67
Home Node B 78
The cdma2000 Access System 79
Protocol Architecture of cdma2000 Access System 80
Evolution Data Only 87
Summary 90
Endnotes 90
Chapter 3 All-IP Access Systems 93
Wireless Local Area Networks Access System 94
Interworking WLAN 95
Generic Access Network 97
WiMAX Access System 99
Protocol Architecture of WiMAX Access System 101
WiMAX Physical Layer 102
WiMAX Adaptive Antenna System 105
WiMAX RLC/MAC Layer 106
WiMAX Evolution 107
Long Term Evolution Access System 108
EUTRAN Architecture 108
EUTRAN Security 110
EUTRAN Physical Layer 110
EUTRAN PDCP/RLC/MAC 112
EUTRAN Sharing 113
LTE Advanced 114
ITU-Advanced 114
Summary 115
Endnotes 115
Part II IP and Today's Cellular Network
Chapter 4 An IP Refresher 117
Routing Protocols 117
IP Addressing 118
Routing State 131
x IP Design for Mobile Networks
Connection-Oriented Switching Methods 152
Connectionless Switching Methods 157
Ethernet-Switching Methods 176
IP Transport Protocols 182
Transport of Applications 182
Transport of IP via Tunneling Protocols 187
Transport of Layer 2 Frames via IP Tunneling Protocols 193
Summary 195
Endnotes 195
Chapter 5 Connectivity and Transport 197
Transmission Systems 197
Synchronous Wire-Line 197
Asynchronous Wire-Line 198
Synchronous Wireless 199
Asynchronous Wireless 200
Core Network Requirements 201
Core Network Communication Planes 203
Data Center Access 218
Radio Access Network Requirements 223
Converged TDM Aggregation 223
Divergent Aggregation 225
Converged PSN Aggregation 227
Summary of Core Network and RAN Transport Requirements 229
Mobility Network Transport Architecture 229
3GPP Mobility Protocols 229
Universal Mobile Transport Service–3G 235
3GPP2 Mobility Protocols 241
Code-Division Multiplexing Access (CDMA) 241
IP Transport of CDMA 3G Interfaces 246
3GPP2 Mobility Protocols Summary 251
Long-Term Evolution/System Architecture Evolution: 4G 251
LTE/SAE Architecture 251
Worldwide Interoperability for Mobile Access (WiMAX) 259
Evolution of Transport Infrastructures 268
Endnotes 268
Chapter 6 Mobile Core Evolution 271
Circuit-Switched Domain 271
GSM Mobility Management 273
GSM Mobile Terminated Call 276
GSM Handover 279
Short Message Service 281
cdma2000 Core Network 283
WCDMA Core Network 283
Evolved IP-Based CS Core Network 285
Packet-Switched Domain 288
Core Network Mobility Support 289
PS Core Network Architectures 304
Summary 328
Endnotes 329
Chapter 7 Offloading Traditional Networks with IP 333
Backhaul Offload with Pseudowires 334
Pseudowire Use-Cases 335
Pseudowire Emulation Edge-to-Edge (PWE3) 340
Pseudowires for Time Division Multiplexing (TDM) 341
Time Division Multiplexing over IP (TDMoIP) 344
Circuit Emulation Services over Packet-Switched Networks (CESoPSN) 347
ATM Pseudowires 348
SONET/SDH Circuit Emulation over Packet 352
Abis/Iub Optimization for GSM Networks 353
Timing 354
Radio Access Network and Synchronization 354
Introduction to Timing 356
Timing Architectures 362
Timing Modes 369
Packet-Based Timing 372
Clock Recovery over Packet 373
Timing over Packet Solutions 374
Summary 385
Endnotes 385
Part III The End-to-End Services Network
Chapter 8 End-to-End Context Awareness 387
Policy 387
Proactive and Reactive Policy Control 390
Global Policies 392
Subscriber-Specific Policies 392
Policy Examples 396
A Network of Networks 396
Network Independence Today 397
Network Interdependence Tomorrow 403
Policy in Wireless Standards 404
3GPP Policy Framework 404
3GPP2 Policy Framework 408
WiMAX Policy Framework 412
Maintaining State in a Mobile Network 415
Network Policy Protocols 416
RAN Authorization and Encryption 416
IP Authentication and Authorization 425
Location Awareness 437
Device-Based Mechanisms 437
Network-Based Mechanisms 438
Hybrid Mechanisms for User Location 439
Summary 440
Endnotes 441
Chapter 9 Content and Services 443
Service Delivery Platforms 443
SDP Core Components 444
SDP Overlay Services 449
Intelligent Networks (IN) 452
History of Intelligent Networks 452
IN Architecture 453
Mobile IN 457
Local/Mobile Number Portability 458
Softswitches 459
Voice Over IP 460
Voice Signaling 461
VoIP Bearer Overview 485
IP Multimedia Subsystem (IMS) 486
IMS Framework 488
IMS Identity/Subscriber Model 489
IMS Building Blocks to New Services 490
Video Delivery over Mobile Networks 490
Unicast Video Delivery 491
Multicast Video Delivery 492
Overlay Broadcast Video Delivery 493
Service Security 496
Summary 497
Index 499
Other Things You Might Like


eBook (Watermarked) $38.39

Book $55.99