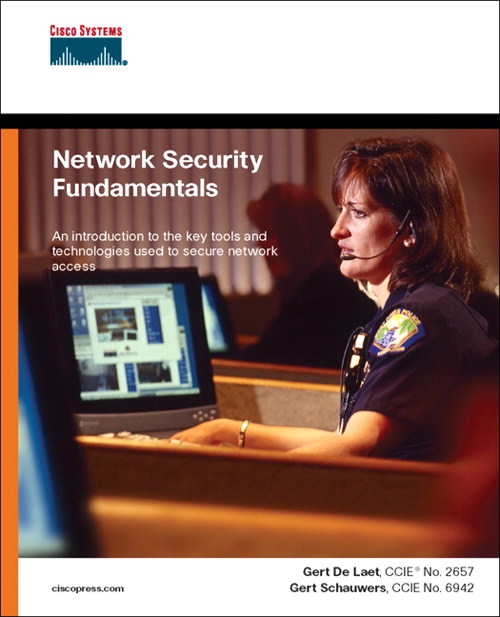 Register your product to gain access to bonus material or receive a coupon.
Network Security Fundamentals
Book
Sorry, this book is no longer in print.
eBook (Watermarked)
Your Price: $42.39
List Price: $52.99

This PDF will be accessible from your Account page after purchase and requires the free Adobe® Reader® software to read it.

The eBook requires no passwords or activation to read. We customize your eBook by discreetly watermarking it with your name, making it uniquely yours.
Copyright 2005
Dimensions: 7-3/8" x 9-1/8"
Pages: 480
Edition: 1st
Book
ISBN-10: 1-58705-167-2
ISBN-13: 978-1-58705-167-8
eBook (Watermarked)
ISBN-10: 1-58705-285-7
ISBN-13: 978-1-58705-285-9
An introduction to the key tools and technologies used to secure network access
Examine common security vulnerabilities and the defenses used to protect network resources
Learn about cryptography, including modern-day techniques like 3DES, RSA, hashing, and the use of certificates
Learn how to design, adopt, and enforce security policies
Evaluate the nuances of secure network design
Secure HTTP traffic by hardening operating systems, servers, and browsers
Protect routers through administrative access policies and services
Understand what firewalls do and how to implement them to maximum effect
Inspect and monitor network activity with IDS
Utilize VPNs for secure remote access
Learn about PKI technologies
Examine secure wireless design techniques
Use logging and auditing tools, such as syslog, SNMP, RMON, and SAA, to manage network traffic
Companies have long been struggling with threats from the hacking community. Keeping pace with the rapid evolution of security technology and the growing complexity of threats is a challenge even in the best of times. The increased focus on security has sent IT managers and engineers scrambling to acquire the proper expertise to implement complex, multilayered solutions.
Network Security Fundamentals introduces the topic of network security in an easy-to-understand and comprehensive manner. This book is designed to provide a fundamental understanding of the various components of a network security architecture and to demonstrate how each component can be implemented to achieve best results. The book uses straightforward language to introduce topics and to show the features, mechanics, and functionality of various network security devices. A series of case studies helps illuminate concepts and shows how you can apply the concepts to solve real-world problems.
Divided into four parts, Network Security Fundamentals takes you on a tour of all the essential technologies and modern defenses at your disposal to help you maintain network uptime and data integrity. Part I covers the basics, introducing terms and concepts and laying the foundation of a solid security structure. The discussion focuses on weaknesses and vulnerabilities along with an overview of the traditional defenses used to thwart attacks. Part II examines two components of security-cryptography and security policies. Part III looks at the various security components. Separate chapters cover web security, router security, firewalls, intrusion detection systems (IDS), remote access security, virtual private networks (VPN), Public Key Infrastructure (PKI), wireless security, and logging and auditing. Each chapter in this section is a self-contained tutorial, allowing you to skip to those topics of greatest interest or primary concern. Part IV includes several reference appendixes, including the Cisco SAFE Blueprint, NSA guidelines, and SANS policies.
Whether you are looking for an introduction to network security principles and practices or a security configuration reference, this book provides you with the invaluable insight you need to protect valuable company resources.
Online Sample Chapter
Cisco Network Security Fundamentals: Wireless Security
Downloadable Sample Chapter
Download - 1.69 MB -- Chapter 14: Wireless Security
Table of Contents
I. INTRODUCTION.
1. Network Security Overview.
Defining Trust.
Most Trusted.
Less Trusted.
Least Trusted.
Weaknesses and Vulnerabilities.
Responsibilities for Network Security.
Security Objectives.
Conclusion.
Q&A.
2. Understanding Vulnerabilities–The Need for Security.
Risk and Vulnerability.
TCP/IP Suite Weaknesses.
IP.
TCP.
TCP/IP Security Issues.
Countermeasures.
Buffer Overflows.
Buffer Overflow Mechanisms.
Buffer Overflow Protection.
Countermeasures.
Spoofing Techniques.
Address Resolution Protocol Spoofing.
Domain Name Service Spoofing.
Countermeasures.
Social Engineering.
Techniques.
Countermeasures.
Conclusion.
Q&A.
3. Understanding Defenses.
Digital IDs.
Intrusion Detection System.
PC Card—Based Solutions.
Security Cards.
Hardware Keys.
PC Encryption Cards.
Physical Security.
Outside and External Security.
Internal Security.
Disaster-Recovery Plans.
Personnel Awareness.
Encrypted Login.
Secure Shell Protocol.
Kerberos Encrypted Login Sessions.
Secure Socket Layer (HTTP versus HTTPS).
Firewalls.
Reusable Passwords.
Weaknesses.
Sample Password Policy.
Antivirus Software.
Encrypted Files.
Biometrics.
Fingerprint Scanning.
Voice Recognition.
Typing Biometrics.
Face Recognition.
Signature Recognition.
Conclusion.
Q&A.
II. BUILDING BLOCKS.
4. Cryptography.
Cryptography versus Cryptanalysis.
Manual Systems.
Crypto Machines.
Computers.
Modern-Day Techniques.
Symmetric Key Algorithms.
Asymmetric Key Algorithms.
Hashing Algorithms.
Secure Socket Layer and Transport Layer Security.
Digital Certificates.
Conclusion.
Q&A.
5. Security Policies.
Defining a Security Policy?
Importance of a Security Policy.
Development Process.
Incident Handling Process.
Security Wheel.
Sample Security Policy.
Purpose.
Scope.
Policy.
Enforcement.
Definitions.
Conclusion.
Q&A.
6. Secure Design.
Network Design–Principles.
Top-Down Design Practices.
Requirements and Constraints.
Design Activities, Tools, and Techniques.
Defense in Depth.
Network Design–Methodology.
Stages of the Network.
Return on Investment.
Physical Security Issues.
Securing the Perimeter.
Internal Security.
Personnel Training.
Survivability and Recovery.
Switches and Hubs.
Conclusion.
Q&A.
III. TOOLS AND TECHNIQUES.
7. Web Security.
Hardening.
File Systems.
Web Servers.
Browsers.
Case Study.
Conclusion.
Q&A.
8. Router Security.
Basic Router Security.
Administrative Access.
Services.
Router Security to Protect the Network.
Access Lists.
Enhanced Access Lists.
CBAC.
Case Study.
Conclusion.
Q&A.
References in This Chapter.
9. Firewalls.
Firewall Basics.
Different Types of Firewalls.
Hardware Firewalls: PIX and NetScreen.
Check Point Software Firewalls.
Enhancements for Firewalls.
NAT.
Proxy Services.
Content Filters.
Antivirus Software.
Case Study: Placing Filtering Routers and Firewalls.
Summary.
Q&A.
10. Intrusion Detection System Concepts.
Introduction to Intrusion Detection.
IDS Fundamentals.
Evasion and Antievasion Techniques.
Organizational Issues and Complications.
Host-Based IDSs.
Host Sensor Components and Architecture.
Deploying Host-Based Intrusion Detection in the Network.
Network-Based IDSs.
Network Sensor Components and Architecture.
Deploying Network-Based Intrusion Detection in the Network.
Notification and Reporting.
IDS Management Communications–Monitoring‡the‡Network.
Communication Syntax–RDEP.
Out-of-Band Management.
In-Band Management.
Sensor Maintenance.
Case Study: Deployment of IDS Sensors in‡the‡Organization and Their Typical Placement.
IDS Placement on the Network Blueprint.
IDS Sensor Initialization and Configuration.
IDS Tuning.
Network Under Attack–IDS Event Viewer.
IDS Active Responses in Action–Blocking a Host.
Conclusion.
Q&A.
11. Remote Access.
AAA Model.
Authentication.
Authorization.
Accounting.
AAA Servers.
TACACS+ Overview.
RADIUS Overview.
TACACS+ versus RADIUS.
Kerberos.
Lock-and-Key Feature.
Two-Factor Identification.
Case Study: Configuring Secure Remote Access.
TACACS+ Configuration Task List.
Router COMMSROOM1 Setup and Configuration for This Scenario.
Test and Troubleshoot Configuration for This Scenario.
Summary.
Q&A.
12. Virtual Private Networks.
Generic Routing Encapsulation Tunnels.
IP Security.
Encryption.
Data Integrity.
Origin Authentication.
Antireplay Protection.
Protocol Framework.
Tunnel or Transport Mode.
Transform Sets.
VPNs with IPSec.
Case Study: Remote Access VPN.
Conclusion.
Q&A.
13. Public Key Infrastructure.
Public Key Distribution.
Trusted Third Party.
PKI Topology.
Enrollment Procedure.
Revocation Procedure.
Case Study: Creating Your Own CA.
Conclusion.
Q&A.
14. Wireless Security.
Different WLAN Configurations.
What Is a WLAN?
How Wireless Works.
WLAN Architecture.
Setting Up the WLAN Connection.
Risks of Open Wireless Ports.
SSID Vulnerabilities.
Open Authentication Vulnerabilities.
Shared Key Authentication Vulnerabilities.
EAP Protocol and the 802.11i Standard.
War-Driving and War-Chalking.
SAFE WLAN Design Techniques and Considerations.
Case Study: Adding Wireless Solutions to a Secure Network.
Conclusion.
Q&A.
15. Logging and Auditing.
Logging.
SYSLOG.
Simple Network Management Protocol.
SNMP Notifications.
SNMP Versions.
SNMP Configuration.
Remote Monitoring.
Service Assurance Agent.
Case Study.
Conclusion.
Q&A.
IV. APPENDIXES.
Appendix A: SAFE Blueprint.
Appendix B: SANS Policies.
Appendix C: NSA Guidelines.
Appendix D: Answers to Chapter Q&A.
Bibliography.
Books.
Website References.
Index
Download - 259 KB -- Index
Other Things You Might Like

By Cindy Green-Ortiz, Brandon Fowler, David Houck, Hank Hensel, Patrick Lloyd, Andrew McDonald, Jason Frazier
eBook (Watermarked) $38.39