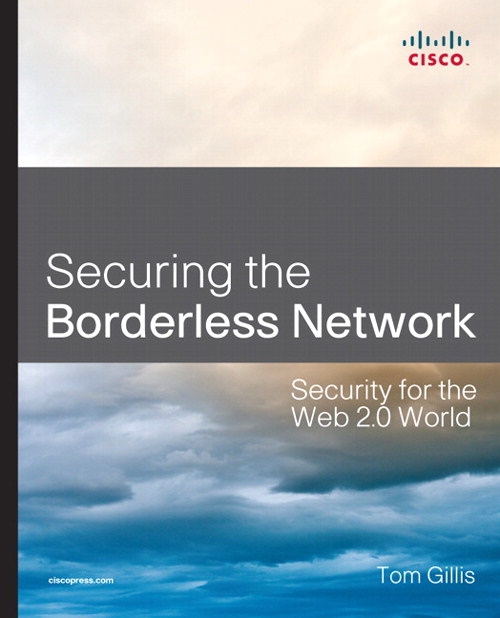 Share
|



Register your product to gain access to bonus material or receive a coupon.
Securing the Borderless Network: Security for the Web 2.0 World
Book
Sorry, this book is no longer in print.
eBook (Watermarked)
Your Price: $28.80
List Price: $36.00

This PDF will be accessible from your Account page after purchase and requires the free Adobe® Reader® software to read it.

The eBook requires no passwords or activation to read. We customize your eBook by discreetly watermarking it with your name, making it uniquely yours.
Copyright 2010
Edition: 1st
Book
ISBN-10: 1-58705-886-3
ISBN-13: 978-1-58705-886-8
eBook (Watermarked)
ISBN-10: 1-58714-129-9
ISBN-13: 978-1-58714-129-4
Securing the Borderless Network: Security for the Web 2.0 World
Tom Gillis
Securing the Borderless Network reveals New techniques for securing advanced Web 2.0, virtualization, mobility, and collaborative applications
Today's new Web 2.0, virtualization, mobility, telepresence, and collaborative applications offer immense potential for enhancing productivity and competitive advantage. However, they also introduce daunting new security issues, many of which are already being exploited by cybercriminals. Securing the Borderless Network is the first book entirely focused on helping senior IT decision-makers understand, manage, and mitigate the security risks of these new collaborative technologies.
Cisco® security technology expert Tom Gillis brings together systematic, timely decision-making and technical guidance for companies of all sizes: information and techniques for protecting collaborative systems without compromising their business benefits. You'll walk through multiple scenarios and case studies, from Cisco Webex® conferencing to social networking to cloud computing. For each scenario, the author identifies key security risks and presents proven best-practice responses, both technical and nontechnical.
Securing the Borderless Network reviews the latest Cisco technology solutions for managing identity and securing networks, content, endpoints, and applications. The book concludes by discussing the evolution toward "Web 3.0" applications and the Cisco security vision for the borderless enterprise, providing you with a complete security overview for this quickly evolving network paradigm.
Online Sample Chapter
The Bad Guys from Outside: Malware
Downloadable Sample Chapter
Download Chapter 3: Building Relationships with Web 2.0
Sample Pages
Download the sample pages (includes Chapter 8 and Index)
Table of Contents
Foreword xi
Introduction xiii
Chapter 1 Network Security—Yesterday, Today, and Tomorrow 1
The Evolution of Firewalls 2
Proxy Versus Stateful Inspection 2
From Proxy to Stateful Inspection—and Back Again 4
Endnote 5
Reference 5
Chapter 2 Collaboration and Web 2.0 Technologies 7
Viral Uncertainty Principle 8
Only Connect Digitally 9
Easy Online Collaboration 9
Enterprise-Level Online Collaboration Tools 10
Storage and Applications in the Cloud 11
Endnotes 12
Chapter 3 Building Relationships with Web 2.0 13
Demolishing Communication "Silos" 15
No Future for the Faceless 16
Endnotes 17
References 17
Chapter 4 The Cloud Computing Revolution 19
Managing the "Islands" 20
Disconnected Workflows: Minimal Security 22
Sleeping Easier About Security 24
Endnotes 26
References 26
Chapter 5 You're in San Jose, I'm in Bangalore—Let's Meet 27
Breakthrough Technology 28
Travel Costs Drop Dramatically 29
Richer, More Productive Meetings 32
Network Implications 33
Endnotes 35
References 35
Chapter 6 Watson, Can You Hear Us? 37
Human Need for Connectedness 38
Cutting the Cord 39
One Chip Makes You Smaller 41
Handheld Harvest: Apples to BlackBerrys 44
These Unprecedented Times 45
Evolution of the Smartphone 47
Endnotes 49
References 50
Chapter 7 The Consumerization of IT 53
Talkin' 'bout an Evolution 54
Blame It on the Music 55
More Than Just Smartphones 56
Consumerization: A Pull and a Push 57
Safely Consumerizing IT 59
References 60
Chapter 8 The Bad Guys from Outside: Malware 61
Modern Malware Overview 61
Types of Malware 62
Botnets 63
Even Trusted Sites Can't Be Trusted 64
Finding the Weak Points 64
Social Engineering for Success 65
Spamming and Phishing Get Targeted 67
Profit Motive 70
Endnotes 71
References 71
Chapter 9 Who Are These Guys? 73
The Business of Malware 73
Studying Pharmaceutical Spam 75
Other Links in the Global Chain 77
Taking on the Bad Guys 78
Endnotes 79
References 79
Chapter 10 Signs of Hope 81
Harnessing the Network 82
Bad Guys Team Up 82
Staying in Front of the Threats 83
Scanning for Signatures 83
Behavioral Analysis of Bad Code 84
The Power of Reputation 85
Global Threat Correlation 88
Combining Countermeasures 89
Endnotes 90
Reference 90
Chapter 11 Acceptable Use Policies 91
The Inevitable Evolution of AUPs 91
Gen X/Gen Y "Problem" 92
"Necessary" Noncompliance 94
AUPs Versus the Will of the Employees 96
Endnote 98
References 98
Chapter 12 The Realities of Data Loss 99
One Breach, Multiple Shockwaves 100
Insiders 102
Compliance Pitfall 103
DLP: Chasing Rainbows? 103
Endnotes 104
References 105
Chapter 13 Collaboration Without Confidence 107
Saying "No Thanks" to the "Culture of No" 109
One Workforce, Diverse Needs 111
Secure Collaboration: Anytime, Anywhere, from Any Device 112
Countervailing Forces 114
Endnotes 115
References 116
Chapter 14 Identity Management: We Need to Know if You Are a Dog 117
Identity: The Key to the Security Kingdom 118
Establishing Identity 120
A Flexible Identity Fabric 122
Endnote 123
References 123
Chapter 15 Security for the Borderless Network: Making Web 2.0 and 3.0 Safe for Business 125
Security Policies for the New Open Networked World 126
The Borderless Network Security Architecture 127
Super-Charged Scanners 128
Security Everywhere in the Network 129
Security Intelligence Designed In 130
The Line Between Policy and Enforcement 131
Redefining the Endpoint 132
Collaboration with Confidence 133
Endnote 134
Reference 134
9781587058868 TOC 3/16/2010
Other Things You Might Like