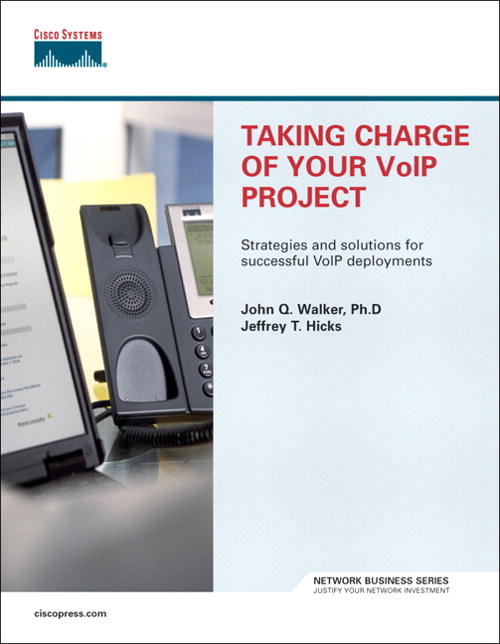 Share
|



Register your product to gain access to bonus material or receive a coupon.
Taking Charge of Your VoIP Project
eBook (Watermarked)
Your Price: $38.39
List Price: $47.99

This PDF will be accessible from your Account page after purchase and requires the free Adobe® Reader® software to read it.

The eBook requires no passwords or activation to read. We customize your eBook by discreetly watermarking it with your name, making it uniquely yours.
Copyright 2004
Dimensions: 7" x 9"
Edition: 1st
eBook (Watermarked)
ISBN-10: 1-58705-418-3
ISBN-13: 978-1-58705-418-1
Strategies and solutions for successful VoIP deployments
Justify your network investment
The step-by-step approach to VoIP deployment and management enables you to plan early and properly for successful VoIP integration with your existing systems, networks, and applications.
The detailed introduction offers a common grounding for members of both the telephony and data networking communities.
IT managers and project leaders are armed with details on building a business case for VoIP, including details of return-on-investment (ROI) analysis and justification.
A VoIP deployment is presented as a major IT project, enabling you to understand the steps involved and the required resources.
The comprehensive look at quality of service and tuning describes when and where to use them in a VoIP deployment. These are often the most complex topics in VoIP; you'll get smart recommendations on which techniques to use in various circumstances.
You learn how to plan for VoIP security, including prevention, detection, and reaction.
Voice over IP (VoIP) is the telephone system of the future. Problem is, VoIP is not yet widely deployed, so there are few skilled practitioners today. As you make your move to VoIP, how will you know how to make VoIP work and keep it working well? What changes will you need to make without disrupting your business? How can you show your return on this investment?
Many books contain technical details about VoIP, but few explain in plain language how to make it run successfully in an enterprise. Taking Charge of Your VoIP Project provides the detailed plans you need to be successful in your organization's deployment of VoIP. Through their years of work in the field, authors John Q. Walker and Jeffrey T. Hicks bring a project-oriented approach to VoIP, with much-needed clarity on getting VoIP to work well.
Taking Charge of Your VoIP Project starts with simple concepts, each chapter building on the knowledge from the last. Although not a technical manual, you learn about the standards, such as H.323, G.711, and Real-Time Transport Protocol (RTP), and the implications they have on your VoIP system. Most importantly, you'll gain expert advice and a systematic guide on how to make VoIP work for your organization.
This volume is in the Network Business Series offered by Cisco Press. Books in this series provide IT executives, decision makers, and networking professionals with pertinent information on today's most important technologies and business strategies.
158720092903152004
Table of Contents
(NOTE: Chapters 1-7 end with Chapter Summary and End Notes.)

Why We Wrote This Book.


1. VoIP Basics.

In the Telephony Community. In the Data-Networking Community.
2. Building a Business Case for VoIP.
A VoIP Business Case. VoIP Benefits and Obstacles. Analyzing VoIP ROI. Getting a Good ROI.
3. Planning for VoIP.
Planning, Analysis, and Assessment. Evaluation and Purchase. Deployment, Tuning, and Testing.
4. Do It Yourself, or Outsource?
Why Outsource? Some Options for Outsourcing. Whether to Outsource-And to Whom? A Methodology for Approaching Outsourcing.
5. Quality of Service and Tuning.
Sharing a Network. QoS: What and Why. Network QoS Techniques. Tuning Choices. Configuration and Testing. QoS and Tuning Recommendations.
6. Ongoing VoIP Management.
Understanding VoIP Management. Managing Operations. Maintaining High Availability. Maintaining Call Quality. Accounting and Billing.
7. Establishing VoIP SLAs.
Determining What to Measure in a VoIP SLA. Implementing VoIP SLAs.
8. VoIP Security.
Network Security Is Tough! Three Stages in Managing Security. Problem Areas for VoIP Security. VoIP Security Recommendations. Chapter Summary. Conclusion. End Notes.
Other Things You Might Like

Book $55.99

eBook (Watermarked) $44.79