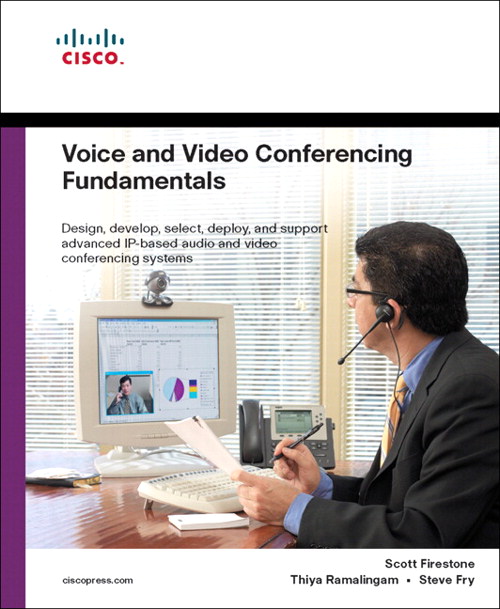 Share
|



Register your product to gain access to bonus material or receive a coupon.
Voice and Video Conferencing Fundamentals
Book
Sorry, this book is no longer in print.
Copyright 2007
Dimensions: 7-3/8" x 9-1/8"
Pages: 408
Edition: 1st
Book
ISBN-10: 1-58705-268-7
ISBN-13: 978-1-58705-268-2
Voice and Video Conferencing Fundamentals
Design, develop, select, deploy, and support advanced IP-based audio and video conferencing systems
Scott Firestone, Thiya Ramalingam, Steve Fry
As audio and video conferencing move rapidly into the mainstream, customers and end users are demanding unprecedented performance, reliability, scalability, and security. In Voice and Video Conferencing Fundamentals, three leading experts systematically introduce the principles, technologies, and protocols underlying today's state-of-the-art conferencing systems. Discover how to use these concepts and techniques to deliver unified, presence-enabled services that integrate voice, video, telephony, networks, and the Internet—and enable breakthrough business collaboration.
The authors begin with a clear, concise overview of current voice and video conferencing, including system components, operational modes, endpoints, features, and user interactivity. Next, they illuminate conferencing architectures, offering practical insights for designing today's complex IP-based conferencing and collaboration systems.
Topics covered in this book include video codecs, media control, SIP and H.323 protocols and applications, lip synchronization in video conferencing, security, and much more. Throughout the book, the authors draw on their extensive experience as Cisco® technical leaders, showing how to avoid the most common pitfalls that arise in planning, deployment, and administration.
Voice and Video Conferencing Fundamentals is for every professional involved with audio or video conferencing: network and system administrators, engineers, technology managers, and Cisco solution partners alike. Whether you're involved with design, development, selection, implementation, management, or support, you'll find the in-depth knowledge you need to succeed.
Scott Firestone holds a master's degree in computer science from MIT and has designed video conferencing and voice products since 1992, resulting in five patents. Thiya Ramalingam is an engineering manager for the Cisco Unified Communications organization. Thiya holds a master's degree in computer engineering and an MBA degree from San Jose State University. Steve Fry, a technical leader in the Cisco Unified Communication organization, has spent the last several years designing and developing telephony and conferencing products.
Thoroughly understand the fundamentals of audio and video conferencing over IP networks
Architect networks for optimal performance and reliability in conferencing applications
Leverage new advances in video architecture, from emerging codecs to distributed implementations
Understand how SIP and H.323 compare, and when to use each
Optimize synchronization between audio and video
Secure conferencing traffic without compromising performance or connectivity
Learn how to evaluate vendors and make better buying decisions
Foreword
Introduction
Chapter 1 Overview of Conferencing Services
Chapter 2 Conferencing System Design and Architecture
Chapter 3 Fundamentals of Video Compression
Chapter 4 Media Control and Transport
Chapter 5 Signaling Protocols: Conferencing Using SIP
Chapter 6 Signaling Protocols: Conferencing Using H.
Chapter 7 Lip Synchronization in Video Conferencing
Chapter 8 Security Design in Conferencing
Appendix A Video Codec Standards
This book is part of the Cisco Press® Fundamentals Series. Books in this series introduce networking professionals to new networking technologies, covering network topologies, sample deployment concepts, protocols, and management techniques.
Category: Cisco Press/Networking
Covers: Voice and video conferencing
1587052687
Online Sample Chapter
Designing IP-Based Video Conferencing Systems: Dealing with Lip Synchronization
Downloadable Sample Chapter
Download - 227 KB -- Chapter 7: Lip Synchronization in Video Conferencing
Table of Contents
Foreword xviii
Introduction xix
Chapter 1 Overview of Conferencing Services 3
Conference Types 3
Ad Hoc Conferences 4
Reservationless Conferences 5
Scheduled Conferences 6
Voice and Video Conferencing Components 9
Video Conferencing Modes 11
Voice-Activated Conferences 11
Continuous Presence Conferences 13
Lecture Mode and Round-Robin Conferences 15
Types of Endpoints 16
Desktop Conferencing Systems 16
Room Conferencing Systems 16
Telepresence Systems 16
Video Controls: Far-End Camera Control 17
Text Overlay 18
Summary 18
Chapter 2 Conferencing System Design and Architecture 21
Components of a Conferencing System 21
User Interface 23
Conference Control 25
Control Plane 26
Media Plane 27
Conferencing Architectures 37
Centralized Architecture 37
Distributed Architecture 38
Full-Mesh Networks 40
Advanced Conferencing Scenarios 41
Escalation of Point-to-Point-to-Multipoint Call 41
Lecture Mode Conferences 41
Panel Mode Conference 42
Floor Control 42
Video Mixing and Switching Scenarios 42
Summary 43
References 43
Chapter 3 Fundamentals of Video Compression 45
Evaluating Video Quality, Bit Rate, and Signal-to-Noise Ratio 45
Video Source Formats 47
Profiles and Levels 47
Frame Rates, Form Factors, and Layouts 47
Standard and High Definitions 48
Color Formats 49
Basics of Video Coding 52
Preprocessing 52
Post-Processing 54
Encoder Overview 55
Hybrid Coding 72
Hybrid Decoder 72
P-Frames 74
Hybrid Encoder 74
Predictor Loop 76
Motion Estimation 77
B-Frames 82
Predictor Loops for Parameters 86
Error Resiliency 88
Scalable Layered Codecs 91
SNR and Spatial Scalability 93
Temporal Scalability 95
Switching Frames 99
Video Codecs 100
Video Stream Hierarchy 100
Macroblocks 101
HD-Capable Codecs 102
Summary 102
References 103
Chapter 4 Media Control and Transport 105
Overview of RTP 105
RTP Header 107
RTP Port Numbers 111
SSRC Collisions 111
RTP Header Extensions 112
Overview of RTCP 113
RTCP Packet Headers 113
RTCP Sender Report 114
RTCP Receiver Report 116
RTCP Source Description (SDES) 117
RTCP BYE 119
RTCP APP 120
RTP Devices in Conference Systems 120
RTP Translator 120
RTP Mixer 123
Audio Mixer 123
Video MCU 124
Video Switcher 124
Video Stream RTP Formats 126
H.263 126
H.264 133
Detecting Stream Loss 141
Summary 142
References 143
Chapter 5 Signaling Protocols: Conferencing Using SIP 145
SIP Overview 145
User Agent 146
Proxy Server 146
Redirect Server 147
Registrar 147
SIP Transactions and Dialogs 148
SIP Messages 149
SIP Requests 149
SIP Responses 152
SIP Record Routing 153
Event Subscription and Notification 154
Session Description Protocol 155
SIP Conferencing Models 157
Conference URI 157
Early and Delayed Offer 158
DTMF Support 159
Ad Hoc Audio Conferencing 160
Ad Hoc Video Conferencing 162
Video SDP Extensions 163
Bandwidth Information in the SDP 167
Multiple Stream Support and Grouping of Media Lines 168
Escalation and De-escalation 169
Media Control Support 172
Scheduled Conferences 173
Entry IVR 174
In-Conference Features 177
Roll Call 177
Hold and Resume 178
Mute and Unmute 179
Outdial 179
RSVP/QoS Support in Conferencing Flows 180
Summary 182
References 183
Chapter 6 Signaling Protocols: Conferencing Using H.323 185
H.323 Overview 185
H.323 Endpoint Aliasing 187
H.225 Call Signaling 188
H.225 Message Format 188
Common H.225 Message Types Used in H.323 Signaling 189
H.245 Control Protocol 191
H.245 Messages 192
Video-Specific H.245 Messages 202
H.323 Fast Connect Mode 204
Using the Empty Capability Set 207
Call Hold Signaling with the Empty Capability Set 207
Call Transfer with the Empty Capability Set 207
H.323 Device Types 208
H.323 Gatekeeper Services 209
Required H.323 Gatekeeper Features 209
Optional H.323 Gatekeeper Features 210
Gatekeeper Signaling Options 211
Gatekeeper RAS Signaling 212
Mid-Call Bandwidth Requests 214
Configuring a Gatekeeper in Cisco Unified CallManager 215
Configuring Gatekeeper Support in a Cisco IOS Router 217
H.225 Call Setup for Video Devices Using a Gatekeeper 217
Using Service Prefixes with MCUs 219
Summary 220
References 220
Chapter 7 Lip Synchronization in Video Conferencing 223
Understanding Lip Sync Skew 223
Human Perceptions 223
Measuring Skew 225
Delay Accumulation 226
Delays in the Network Path 228
Lip Sync Approaches 229
Poor Man's Lip Sync 230
Common Reference Lip Sync 232
Understanding the Sender Side 232
Sender Audio Path 233
Video Source Format 235
Sender Video Path 238
Understanding the Receive Side 241
Audio Receiver Path 241
Receiver Video Path 243
Types of Playout Devices 244
RTP 244
Canonical RTP Model 244
RTP Time Stamps 246
Using RTP for Buffer-Level Management 247
Correlating Timebases Using RTCP 250
NTP 250
Forming RTCP Packets 251
Using RTCP for Media Synchronization 252
Lip Sync Policy 254
Summary 255
References 255
Chapter 8 Security Design in Conferencing 257
Security Fundamentals 257
Threats 258
Confidentiality Attacks 258
Denial-of-Service Attacks 259
Authentication and Identity Attacks 262
Network Infrastructure Attacks 263
Endpoint Infrastructure Attacks 266
Server Attacks 267
Configuring Basic Security 269
Port Usage 270
H.323 Port Usage 270
SIP Port Usage 275
SCCP Port Usage 275
Preset Port Numbers 276
NAT and PAT 276
NAT Classifications 277
NAT Complications for VoIP Protocols 284
NAT ALGs 285
NAT/FW Traversal Solutions 285
Encryption Basics 299
Symmetric Encryption 299
Secure Hashes 299
Asymmetric Encryption: Public Key Cryptography 300
Nonrepudiation 309
Key Distribution 309
IPsec and TLS for Secure Signaling 310
IPsec 311
TLS 311
Media Encryption 312
security-descriptions 312
MIKEY 313
H.323 Encryption: H.235 313
H.235.1 314
H.235.2 316
H.235.3 319
H.235.6 319
SIP Encryption 321
SIP-Digest 321
SCCP Encryption 324
Summary 324
References 325
Appendix A Video Codec Standards 327
021907TOC1587052687
Index
Download - 102 KB -- Index
Other Things You Might Like

Book $55.99

eBook (Watermarked) $44.79