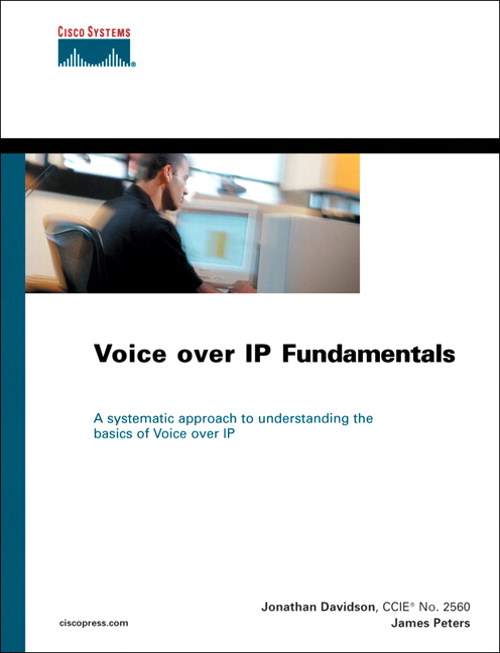 Register your product to gain access to bonus material or receive a coupon.
Voice over IP Fundamentals
eBook (Watermarked)
Your Price: $31.99
List Price: $39.99

This PDF will be accessible from your Account page after purchase and requires the free Adobe® Reader® software to read it.

The eBook requires no passwords or activation to read. We customize your eBook by discreetly watermarking it with your name, making it uniquely yours.
Copyright 2007
Dimensions: 7-3/8" x 9-1/8"
Edition: 1st
eBook (Watermarked)
ISBN-10: 1-58705-425-6
ISBN-13: 978-1-58705-425-9
A systematic approach to understanding the basics of Voice over IP
Understand the basics of PSTN services and IP signaling protocols, including SS7
Learn how VoIP can run the same applications as the existing telephony system, but in a more cost-efficient and scalable manner
Delve into such VoIP topics as jitter, latency, packet loss, codecs, quality of service tools, and mean opinion scores
Learn about the functional components involved in using Cisco gateways to deploy VoIP networks
Voice over IP (VoIP), which integrates voice and data transmission, is quickly becoming an important factor in network communications. It promises lower operational costs, greater flexibility, and a variety of enhanced applications. Voice over IP Fundamentals provides a thorough introduction to this new technology to help experts in both the data and telephone industries plan for the new networks.
You will learn how the telephony infrastructure was built and how it works today, the major concepts concerning voice and data networking, transmission of voice over data, and IP signaling protocols used to interwork with current telephony systems. The authors cover various benefits and applications of VoIP and how to ensure good voice quality in your network.
This book is part of the Networking Technology Series from Cisco Press, which offers networking professionals valuable information for constructing efficient networks, understanding new technologies, and building successful careers.
Table of Contents
(NOTE: Each chapter concludes with a Summary.)
I. PSTN.
1. Overview of the PSTN and Comparisons to Voice over IP.
The Beginning of the PSTN. Understanding PSTN Basics.
Analog and Digital Signaling. Digital Voice Signals. Local Loops, Trunks, and Interswitch Communication. PSTN Signaling.
PSTN Services and Applications.
PSTN Numbering Plans.
Drivers Behind the Convergence between Voice and Data Networking.
Drawbacks to the PSTN. Telecommunications Deregulation.
Packet Telephony Network Drivers.
Standards-Based Packet Infrastructure Layer. Open Call-Control Layer. VoIP Call-Control Protocols. Open Service Application Layer.
New PSTN Network Infrastructure Model.
2. Enterprise Telephony Today.
Similarities between PSTN and ET. Differences between PSTN and ET.
Signaling Treatment. Advanced Features.
Common ET Designs.
ET Networks Provided by PSTN. Private ET Networks.
3. Basic Telephony Signaling.
Signaling Overview.
Analog and Digital Signaling. Direct Current Signaling. In-Band and Out-of-Band Signaling. Loop-Start and Ground-Start Signaling. CAS and CCS.
E&M Signaling.
Type I. Type II. Type III. Type IV. Type V.
CAS.
Bell System MF Signaling. CCITT No. 5 Signaling. R1. R2.
ISDN.
ISDN. ISDN Access Interfaces. ISDN L2 and L3 Protocols. Basic ISDN Call.
QSIG.
QSIG Services. QSIG Architecture and Reference Points. QSIG Protocol Stack. QSIG Basic Call Setup and Teardown Example.
DPNSS.
4. Signaling System 7.
SS7 Network Architecture.
Signaling Elements. Signaling Links.
SS7 Protocol Overview.
Physical Layer—MTP L1. Data Layer—MTP L2. Network Layer—MTP3. SCCP. TUP. ISUP. TCAP.
SS7 Examples.
Basic Call Setup and Teardown Example. 800 Database Query Example.
List of SS7 Specifications.
5. PSTN Services.
Plain Old Telephone Service.
Custom Calling Features. CLASS Features. Voice Mail.
Integrated Services Digital Network. Business Services.
Virtual Private Voice Networks. Centrex Services. Call Center Services.
Service Provider Services.
Database Services. Operator Services.
II. VOICE OVER IP TECHNOLOGY.
6. Voice over IP Benefits and Applications.
Key Benefits of VoIP. Packet Telephony Call Centers. Service Provider Calling-Card Case Study. Value-Added Services.
ICW. V2L.
Enterprise Case Study: Acme Corporation.
Acme's Current Voice and Data Network. Acme's Convergence Plan and Goals. Integration of Voice and Data Networks.
7. IP Tutorial.
OSI Reference Model.
The Application Layer. The Presentation Layer. The Session Layer. The Transport Layer. The Network Layer. The Data Link Layer. The Physical Layer.
Internet Protocol. Data Link Layer Addresses. IP Addressing. Routing Protocols.
Distance-Vector Routing. Link-State Routing. BGP. IS-IS. OSPF. IGRP.
EIGRP.
RIP.
IP Transport Mechanisms.
TCP. UDP.
References.
8. VoIP: An In-Depth Analysis.
Delay/Latency.
Propagation Delay. Handling Delay. Queuing Delay.
Jitter. Pulse Code Modulation.
What Is PCM? A Sampling Example for Satellite Networks.
Voice Compression.
Voice Coding Standards. Mean Opinion Score. Perceptual Speech Quality Measurement.
Echo. Packet Loss. Voice Activity Detection. Digital-to-Analog Conversion. Tandem Encoding. Transport Protocols.
RTP. Reliable User Data Protocol.
Dial-Plan Design. End Office Switch Call-Flow Versus IP Phone Call.
References.
9. Quality of Service.
QoS Network Toolkit. Edge Functions.
Bandwidth Limitations. cRTP. Queuing. Packet Classification.
Traffic Policing.
Traffic Shaping. Edge QoS Wrap-Up.
Backbone Networks.
High-Speed Transport. Congestion Avoidance. Backbone QoS Wrap-Up.
Rules of Thumb for QoS. Cisco Labs' QoS Testing.
III. IP SIGNALING PROTOCOLS.
10. H.323.
H.323 Elements.
Terminal. Gateway. Gatekeeper. The MCU and Elements. H.323 Proxy Server.
H.323 Protocol Suite.
RAS Signaling. Call Control Signaling (H.225). Media Control and Transport (H.245 and RTP/RTCP).
H.323 Call-Flows.
11. Session Initiation Protocol.
SIP Overview.
User Agents. Network Servers. Addressing. Locating a Server. SIP Transactions. Locating a User.
SIP Messages.
Message Headers. Message Requests. Message Responses.
Basic Operation of SIP.
Proxy Server Example. Redirect Server Example.
12. Gateway Control Protocols.
Simple Gateway Control Protocol.
Relation to Other Standards. Session Description Protocol. Transmission over UDP. SGCP Concepts. Control Functions. Call-Flows.
Media Gateway Control Protocol.
Event Packages. Control Functions. Notifications.
13. Virtual Switch Controller.
Overview of the Virtual Switch. Open Packet Telephony. Packet Voice Network Overview.
Network Elements. Network Interfaces.
VSC Architecture and Operations.
VSC-Supported Protocols. Execution Environment. North American Numbering Plan.
VSC Implementation.
Application Check-Pointing. Virtual Switch Manager. Accounting.
IV. VOICE OVER IP APPLIED.
14. Voice over IP Configuration Issues.
Dial-Plan Considerations.
Dial-Plan Problems.
Feature Transparency.
PSTN Feature Transparency.
Cisco's Dial-Plan Implementation.
15. Voice over IP Applications and Services.
Enterprise Applications and Benefits. Enterprise VoIP Case Study: B.A.N.C. Financing International.
The Background and Setup of B.A.N.C. B.A.N.C.'s Plan of Expansion. Consolidating the Networks. Chicago Router Overview. London Router Overview. Tokyo Router Overview. Denver Router Overview. CCM Overview.
Service Provider Case Study: Prepaid Calling Card.
BOWIE.net Multiservice Networks. AS5300—A Router Overview.
Appendix A: ISUP Messages/Types Formats.
Index.
Other Things You Might Like

Book $55.99

eBook (Watermarked) $44.79