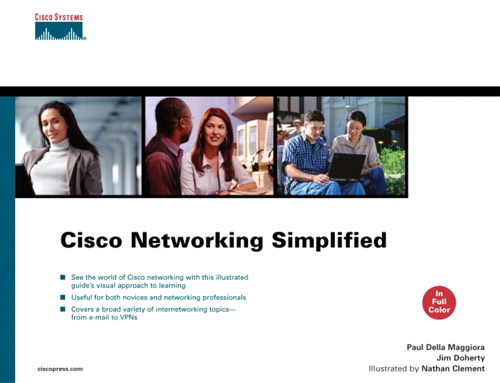 Share
|



Register your product to gain access to bonus material or receive a coupon.
Cisco Networking Simplified
Book
Sorry, this book is no longer in print.
Features
Full color illustrations—Help students easily understand complex concepts.

Provides students with introductory comprehension of networking techniques, terminology, and technology.
An introduction to the most popular networking concepts, technologies, and devices.

Lets students learn about networking basics as well as emerging technologies.
"Whiteboard illustrations"—Further break out concepts and puts them into simplified examples.

Simplified concept illustrations, with no assumption of prerequisite knowledge, makes every topic approachable to every student.
Topical overviews.

Provide a general understanding of the purpose, usage, and impact of each technology.
Copyright 2003
Edition: 1st
Book
ISBN-10: 1-58720-074-0
ISBN-13: 978-1-58720-074-8
A visual explanation of networking technologies
What you always wanted to know about networking but were afraid to ask!
How the Internet works
How e-mail, e-learning, and telephony work on the Internet
What makes a network safe
How traffic gets from here to there
Disaster recovery and other ways to keep a network running
How businesses share data
See the world of Cisco networking with this illustrated guide's visual approach to learning
Useful for both novices and networking professionals
Covers a broad variety of internetworking topics-from e-mail to VPNs
At last-an illustrated guide to the world of Cisco networking. Cisco Networking Simplified breaks down the complicated world of internetworking into easy-to-understand parts. Learn quickly and easily the fundamentals of a variety of topics, such as security, IP telephony, and quality of service, from the full-color diagrams and clear explanations found in Cisco Networking Simplified.
This book is part of the Networking Technology Series from Cisco Press, the only authorized publisher for Cisco Systems.
Online Sample Chapter
Cisco Networking Simplified: Security
Downloadable Sample Chapter
Download - 1.18 MB -- Chapter 9: Security
Table of Contents
I. HOW THE INTERNET WORKS.
1. How Computers Communicate.
2. TCP/IP and IP Addressing.
3. Internet Applications.
II. TELEPHONES AND MOVIES ON THE INTERNET.
4. IP Telephony.
5. IP Call Center.
6. IP Convergence with Tunneling.
7. Multicast.
8. Videoconference.
III. MAKING THE NETWORK SAFE.
9. Security.
10. Hacking.
11. Firewall and IDS.
12. VPNs.
13. Client Authentication and Public Key Encryption.
IV. HOW TRAFFIC GETS FROM HERE TO THERE.
14. Ethernet.
15. LAN Swithcing.
16. Routing and Switching.
17. Mobility and Wireless Networks.
V. KEEPING THE NETWORK RUNNING.
18. Disaster Recovery.
19. High Availability.
20. Network Management.
21. QoS.
22. Routing Protocols.
23. Spanning Tree.
VI. MOVING TRAFFIC ACROSS THE STREET AND THE WORLD.
24. Campus Networks.
25. Optical Technologies.
26. Broadband Technologies.
27. WAN Technologies.
28. Traffic Engineering with MPLS.
VII. HOW BUSINESSES SHARE DATA.
29. Data Center.
30. SAN, Storage.
31. Content Networking.
32. Caching.
33. Desktop Protocols.
34. SNA Infrastructure.
Index
Download - 402 KB -- Index
Other Things You Might Like

Online Video $199.99

By Luc De Ghein
Online Video $159.99

eBook (Watermarked) $22.39