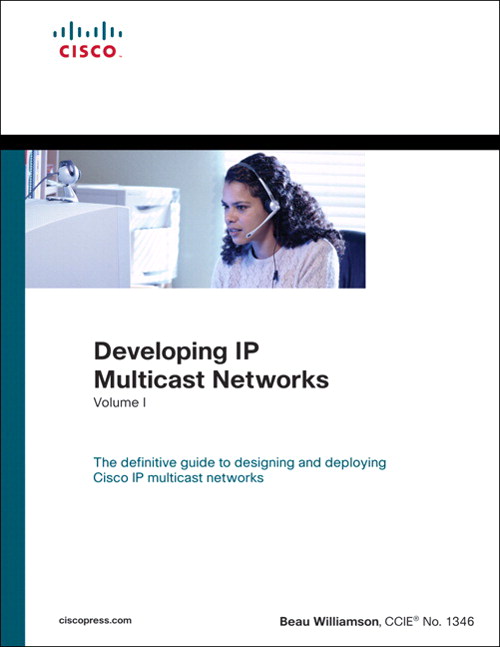 Share
|



Register your product to gain access to bonus material or receive a coupon.
Developing IP Multicast Networks, Volume I (paperback)
Book
Sorry, this book is no longer in print.
Copyright 2000
Dimensions: 7-3/8" x 9-1/8"
Pages: 592
Edition: 1st
Book
ISBN-10: 1-58714-289-9
ISBN-13: 978-1-58714-289-5
The definitive guide to designing and deploying Cisco IP multicast networks
Clear explanations of the concepts and underlying mechanisms of IP multicasting, from the fundamentals to advanced design techniques
Concepts and techniques are reinforced through real-world network examples, each clearly illustrated in a step-by-step manner with detailed drawings
Detailed coverage of PIM State Rules that govern Cisco router behavior
In-depth information on IP multicast addressing, distribution trees, and multicast routing protocols
Discussions of the common multimedia applications and how to deploy them
Developing IP Multicast Networks, Volume 1 covers an area of networking that is rapidly being deployed in many enterprise and service provider networks to support applications such as audio and videoconferencing, distance learning, and data replication. The concepts used in IP multicasting are unlike any other network protocol, making this book a critical tool for networking professionals who are implementing this technology.
This book provides a solid foundation of basic IP multicast concepts, as well as the information needed to actually design and deploy IP multicast networks. Using examples of common network topologies, author Beau Williamson discusses the issues that network engineers face when trying to manage traffic flow. Developing IP Multicast Networks, Volume 1 includes an in-depth discussion of the PIM protocol used in Cisco routers, and detailed coverage of the rules that control the creation and maintenance of Cisco mroute state entries. The result is a comprehensive guide to the development and deployment of IP multicast networks using Cisco routers and switches.
Table of Contents
1. Introduction to IP Multicasting.


2. Multicast Basics.


3. IGMP-Internet Group Management Protocol.


4. Multimedia Multicast Applications.


5. DVMRP.


6. PIM Dense Mode.


7. PIM Sparse Mode.


8. Core Based Trees (CBT).


9. MOSPF.


10. Using PIM Dense Mode.


11. Using PIM Sparse Mode.


12. PIM Rendezvous Points.


13. Connecting to DVMRP Networks.


14. Multicasting over LAN Switches.


15. Multicasting over ATM Networks.

Other Things You Might Like


By Sean Wilkins
Online Video $159.99